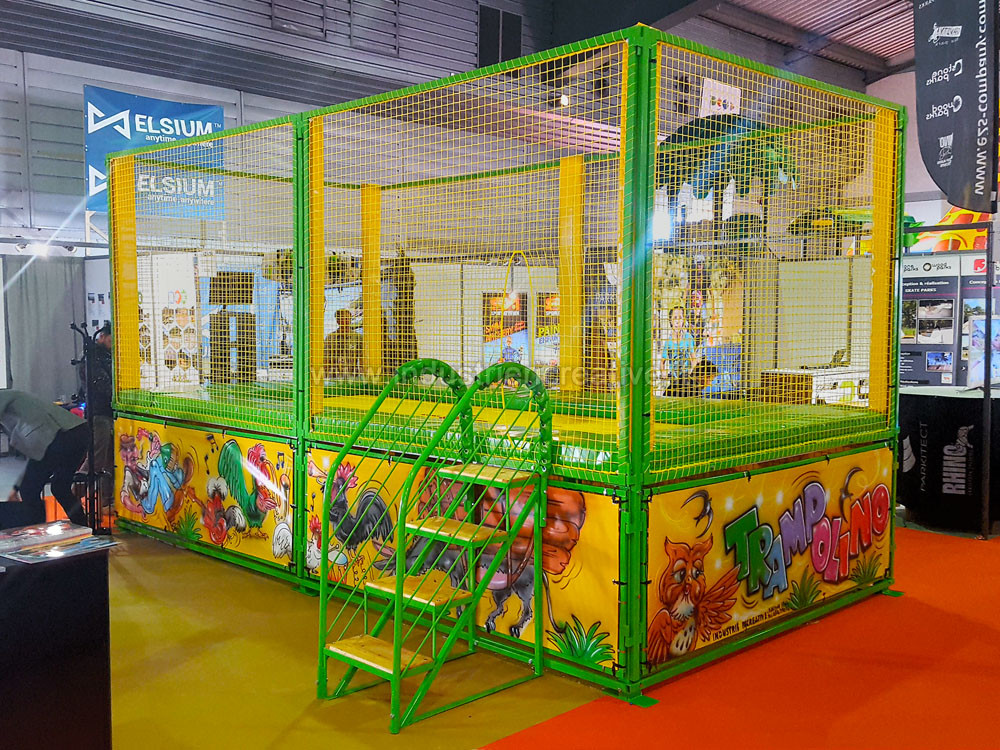 Small space, big fun!
Professional sport performance trampoline always obtains great success at hotels, restaurants, bathing establishments, playrooms, farm restaurants, shopping centers, stalls, bars, etc., because this single trampoline offers play and entertainment to a large number of children at the same time in a small space.
Moreover, this trampoline is appreciated by parents due to its guaranteed fun in complete safety. This aspect is the reason for the choice of customers whose activities are attended by children: a real boon for your business.
For those customers who want to equip their backyard with an equipment for letting play their children or practising some sports in the family, our garden trampoline is the best choice ever. Moreover, its useful life is endless! A big professional sport performance trampoline in a small space!
Professional operators consider "Sport Performance" trampoline the best trampoline for children.
The load-bearing structure and the springs are equipped with large cushions of 10 cm thickness, covered with PVC, colours of choice. The perimeter protection mesh and a comfortable and safe access ladder allow children to play in maximum safety.
---
Capacity: 10 children up to 10 years or 1 adult at a time

Size (in meters): 5.11 x 2.98
The standard trampoline supply is composed of:
support frame, access ladder and handrail, all in hot-dip galvanized and painted steel;
stairs in fir wood boards;
galvanized bolts for assembly;
hardened springs with electrogalvanic zinc coating;
PVC protective cushions complete with fastening straps and padded with non-deformable 30 density sponge;
perimeter protection mesh in nylon;
long-lasting professional and soft jumping mat with stainless steel hooks for a quick connection.
two-tone PVC perimeter aesthetic fabric, 80 cm height.
Colours of choice. Amazing designs on an aesthetic fabric, on demand customized.
The Sport Performance trampoline requires no maintenance for years, except for the ordinary cleaning.
---
For spare parts (jumping mats, springs and cushions), please refer to the "Spare parts for professional trampolines" section.