For 35 years we have been producing professional trampolines for sports facilities, playgrounds, beach establishments, swimming pools, hotels, campsites, restaurants and farm restaurants, playrooms as well as for private use: all these trampolines always achieve resounding success from children and adults.
Professional trampolines are sold directly by contacting or visiting our production workshop: no intermediaries or dealers are needed. We export "Jumping" trampolines to four continents. These pro-level items are appreciated for their solidity, efficiency, beauty and attention to detail. They can be customized with colours and designs chosen by the customer; each of them has passed all the stringent safety tests in force in Europe and is certified.
The original "Jumping" mat is made of 3,680 meters of entirely hand-woven high-tenacity 2 mm diameter nylon braid: it is absolutely soft and it does not scratch as it is knotless.
The standard mat is equipped with 108 galvanized springs, 28 cm long, that allow the user to jump easily. This system means less effort to jump and therefore less chance of accidents due to tiredness.
Our trampoline mat can be used by everyone, without weight limits.
The size of the standard trampoline mat is 436 x 192 cm.
On demand, we can apply on our frames smaller or larger mats, such as those for sports use (426 x 213 cm). In all cases our trampoline mats are equipped with a polished stainless steel hook for an easy and fast spring connection.
Industrie Ricreative guarantees a trampoline mat's average useful life of 8-10 years.
The new protective cushions are sealed so as to avoid water seepage issues and the joints are perfectly tight, without space in-between.
More details on the "Spare parts for trampolines" section.
That's why our modular trampolines are so appreciated: they are a guarantee of success and good business! We can say without a doubt that we have reached the best quality/duration/price ratio on the market.
---
The standard supply of modular trampolines of any shape and without number limitation is composed of:
support frame, gate, ladder, handrail and service gate, all in hot-dip galvanized and painted steel;
stairs, landing and access walkway in fir wood boards;
galvanized bolts for assembly;
hardened springs with electrogalvanic zinc coating;
PVC protective cushions with fastening straps and padded with non-deformable 30 density sponge;
external plug-in protective panels with electro welded mesh in plastic or (on demand) in nylon;
long-lasting pro-level and soft jumping mats with stainless steel hooks for a quick connection;
two-tone PVC perimeter aesthetic fabric, 80 cm height;
colours of your choice;
amazing designs on an aesthetic fabric, on demand customized.
Each trampoline structure is equipped with a static test certificate.
BIG PROFESSIONAL TRAMPOLINES
FOR EVERYONE
| NO. PLACES | DISPOSITION | DIMENSIONS |
| --- | --- | --- |
| 4 | Standard | Mt. 5.56 x 11.96 |
| 6 | Standard | Mt. 8.26 x 11.96 |
| 8 | Standard | Mt. 10.96 x 11,96 |
| 10 | Standard | Mt. 13.56 x 11.96 |
| 3 | In-a-row | Mt. 8.26 x 6.76 |
| 4 | In-a-row | Mt. 10.96 x 6.76 |
| 5 | In-a-row | Mt. 13.56 x 6.76 |
| 6 | In-a-row | Mt. 16.36 x 6.76 |
Example of "Standard" disposition
Example of "In-a-row" disposition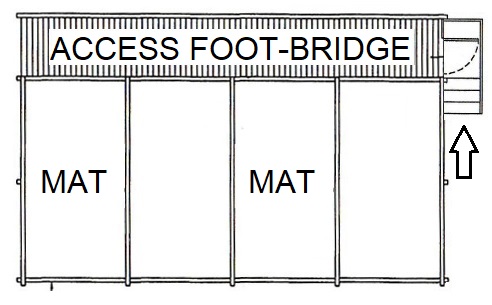 Modular trampolines with Foam Pit / Airbag:
Great news: two games, one structure!
A series of professional trampolines for outdoor/indoor use with a final dip on our "Jumping Airbag", a large and soft inflatable cushion placed on one side of the structure.